This is an example of one of my favorite design styles: Flemish!  You see a lot of this style in weddings these days.  Lush, colorful, fabulous.  Gah!  I love it.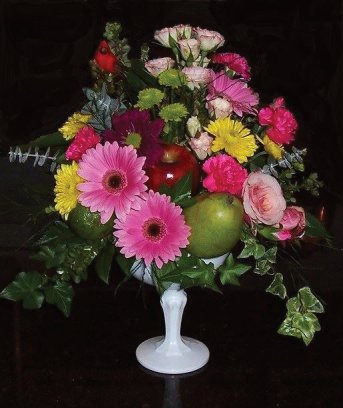 What's Flemish design?  I'm so glad you asked.
If you were from the medieval land of Flanders (that always makes me laugh, because I hear it in Homer Simpson's voice), you'd be Flemish.  Modern day Flanders (snicker) covers Belgium, France, and Holland.  So you get the idea.  Now take a gander at some of the paintings from that region between 1550 and 1700; you'll see the opulence of everything.  It had to be lush, full, dripping with more, more, more.
Flemish design in the floral world is intended to emulate the paintings from that period.  You find lots of color, lots of variety, even fruits & veg.  Sometimes you'll see found objects and treasures incorporated, and you'll see natural objects like bird's nests and feathers.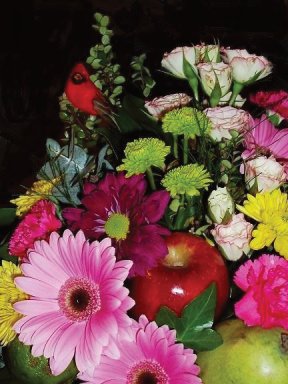 As far as wedding design trends go, Flemish-style bouquets are evolving in a more modern, but still opulent, direction:  the Brooch Bouquet.  (You can thank The Great Gatsby movie for that.)  Brooch Bouquets are becoming quite the rage, and I am getting more and more inquires about them and requests for custom pieces.
I had a lovely time making this Flemish design.  And I got a fruit salad out of it after it was finished!   ;-)
-Rebecca
"Let the beauty we love be what we do."  -Rumi
What a gorgeous day out at Springdale Farms!  Beautiful sunshine, beautiful smiling people, beautiful brides.  I was so thrilled to be asked to design custom bouquets for these two sweet and lovely people.
Visit Springdale Farms
here
and Will Hollis Photography
here
.
More photographs of Mari & Erin's wedding can be found
HERE
!
--

Rebecca Frazier-Smith, TMF
"Let the beauty we love be what we do."   -Rumi
/